Blackberry Muffins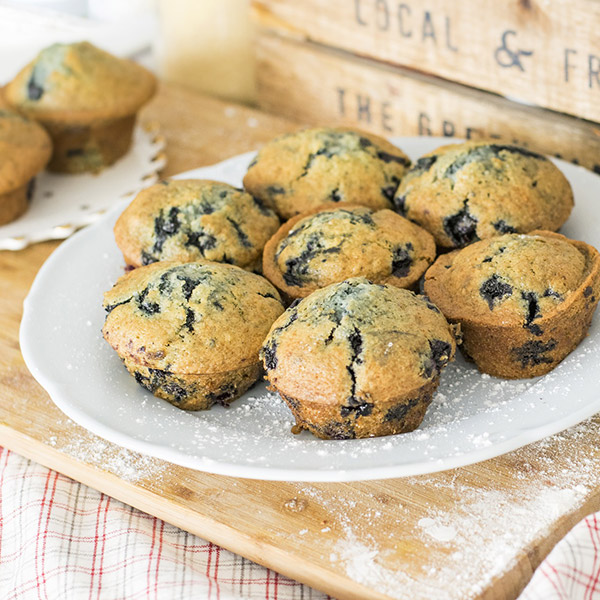 Prep-time 15 min Cook-time 20-25 min Serves 7-8
The muffins are bursting with blackberries and topped with a cinnamon crumble. They're bakery style and simple to make with just 5 simple steps.
Ingredients
1 1/2 Cup all-purpose flour
3/4 Cup sugar
1/2 tsp salt
2 tsp baking powder
1/3 Cup vegetable oil
1 egg
1 tsp vanilla extract
1/4 tsp almond extract
1/3 - 1/2 Cup milk
1 cup fresh Central West Blackberries
For the Streusel Topping:
1 cup white sugar
1/3 cup all-purpose flour
1/4 cup melted butter
1tsp ground cinnamon
1/2 tsp ground cardamom
Directions
Preheat oven to 400°F . Grease a muffin tin or line with muffin liners. Combine flour, sugar, salt and baking powder in a large bowl. Add oil to a 1 cup measuring cup. Add egg and enough milk (1/3 – 1/2 cup) to fill to 1-cup line. Add vanilla and almond extract (if using) and whisk to combine. Combine dry ingredients and wet ingredients until just combined, then fold in blackberries. To Make Streusel Topping: Mix together sugar, flour, butter, cinnamon and cardamom with a fork until coarse crumbs form. Sprinkle over muffins before baking. Divide batter evenly into muffin cups. Sprinkle with streusel topping. Bake for 20-25 minutes, until a tester inserted into the center comes out clean. When muffins are done, cool for a few minutes in the muffin pan before removing to cool on a wire rack.