Blueberry Oatmeal Yogurt Popsicles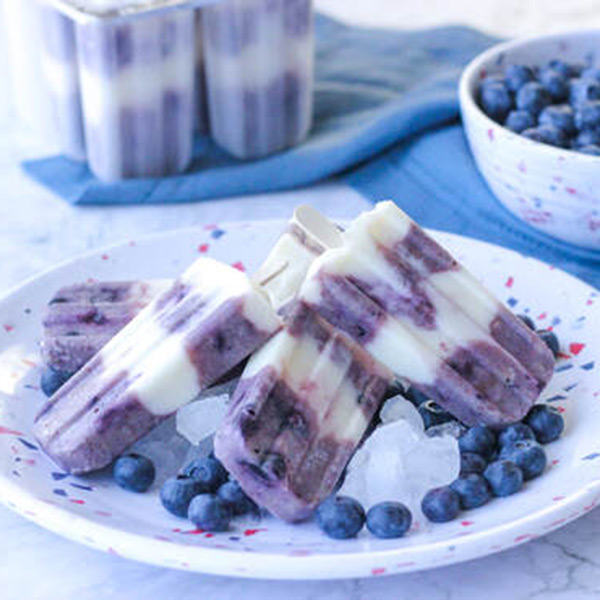 Prep-time 5 minutes Cook-time 2 minutes Serves 10 popsicles
These easy to make blueberry oatmeal yogurt popsicles are chock full of healthy goodness, but taste like a treat. Kids and adults alike will enjoy them!
Ingredients
1/2 cup quick cooking oats
1 cup whole milk (or dairy free milk)
1 1/2 cups fresh California blueberries, divided
1 small banana, mashed (about 1/4 cup)
Pinch of sea salt
2 tablespoons honey
16 ounces vanilla yogurt
Directions
Place oats and milk in a microwave bowl. Smash the blueberries with a potato masher and add 2/3 of the mashed blueberries to the bowl with the oats, reserving the remaining blueberries. Add the banana to the bowl along with the sea salt. Whisk well to combine and microwave for 2 minutes. Remove from the microwave, and let cool until the mixture is lukewarm. Stir in remaining mashed blueberries and the honey.
Spoon one tablespoon of the blueberry oat mixture into the bottom of each popsicle mold and top mold on the countertop to flatten mixture evenly. Spoon one tablespoon of vanilla yogurt onto the blueberry layer. Tap mold again. Repeat, alternating blueberries and yogurt until the molds are full. Top with the lid and popsicle sticks. Freeze until solid, at least a few hours or overnight.
To release the popsicles from the mold, dip the bottom of the mold briefly into warm water.