Perfect Fruit Scones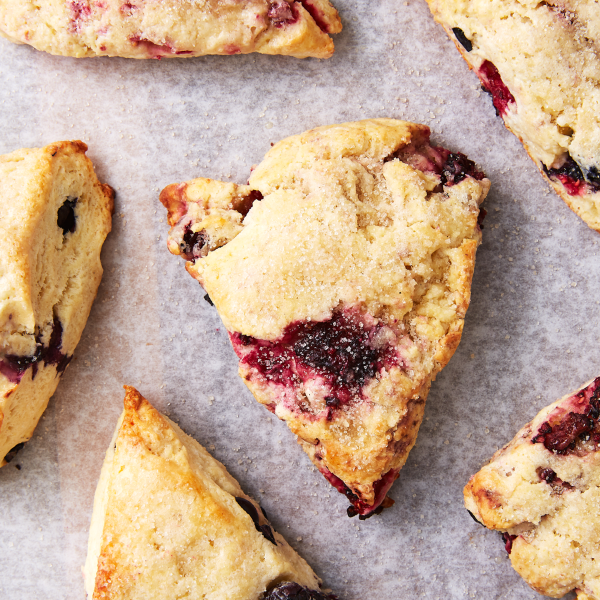 Prep-time 10 mins Cook-time 20-22 mins Serves 8
Fruit scones are meant to be seasonal, so use your favorite fruit that's in season, or whatever you need to use up in your fridge. I love them with blackberries, but a mix of berries is always a crowd-pleaser!
Ingredients
3 1/4 c. all-purpose flour, plus more for surface
1/3 c. granulated sugar
2 tbsp. packed brown sugar
1 tbsp. baking powder
1 tsp. kosher salt
1/2 c. (1 stick) cold butter, cut into cubes
1 c. fruit, such as raspberries, blueberries, blackberries, or a mix (chopped, if large)
2 large eggs, beaten
1 c. heavy cream, plus more for brushing
Coarse sugar, for sprinkling
Directions
Step 1
Preheat oven to 400° and line a large baking sheet with parchment paper. In a large bowl, whisk together flour, sugars, baking powder, and salt. Add butter and, using a pastry cutter or your hands, cut butter into flour until the size of peas. Add fruit and toss to coat.
Step 2
Make a well in mixture and add eggs and heavy cream. Mix with your hands until just combined. Turn dough out onto a lightly floured surface and pat into an 8" round. Cut into 8 triangles and place on prepared baking sheet. (At this point, you can freeze the scones if you like, for later.)
Step 3
Brush with heavy cream and sprinkle with coarse sugar. Bake until lightly golden, 20 to 22 minutes. (Add another 5 to 10 minutes if baking from frozen.)
Step 4
Let cool 5 minutes on baking sheet, then transfer the scones to a rack to cool completely.